Clinical and translational research on stroke
Our robust patient care is complemented by our depth of experience in clinical trials. Some of our latest clinical trials in stroke include:
CSF delivery of a drug to prevent ischemic stroke after subarachnoid hemorrhage. [NCT02790632]
DEFUSE 3 is an NIH-funded trial testing the safety and efficacy of mechanical thrombectomy plus medical management compared to medical management alone treated between six to 16 hours after a large artery ischemic stroke. Perfusion CT and/or advanced MR imaging will be used to identify candidates for this trial. Keck Medicine of USC is the only trial site in Los Angeles. [NCT02586415]
ENRICH is an industry-sponsored randomized controlled trial utilizing early, minimally invasive removal of intracerebral hemorrhage. [NCT02880878]
Our clinical research spans multiple projects related to the diagnosis and treatment of stroke and cerebral revascularization. For instance, investigators are studying a novel, catheter-based delivery mechanism for medications during mechanical thrombectomy.12
Another therapeutic clinical research project is examining a new method of intraoperative evaluation of cerebral blood flow. The aim of this project is to improve the knowledge of flow requirements that will help select an appropriate revascularization graft. Existing methods of flow estimation are not appropriate for all vessel sizes and some methods are limited by the device and personnel requirements needed to carry them out. This technology allows for real-time intraoperative evaluation of flow.
Researchers are also trying to identify a predictive test for vasospasm in a subset of patients with aneurysmal subarachnoid hemorrhage (aSAH). In this project, they are examining the association, if any, between the known elevation in matrix metalloproteinase 9 (MMP9) levels prior to vasospasm in aSAH with MRI evidence of blood-brain barrier dysfunction and vasospasm.13
Clinical research into the diagnosis of stroke involves novel biomarkers of inflammation. Investigators are collecting serum samples from patients who've had a stroke or transient ischemic attack to assess them for biomarkers. Additionally, subjects undergo MR imaging to determine how the functional brain connections are affected by ischemic injury. These data are analyzed with the goal of helping predict outcomes of patients with stroke and identify which patients may benefit more from one therapy than another.
Stroke-related translational research projects at USC Neurosciences are examining risk factors and novel therapies for stroke. An NIH-sponsored project is testing the effect of airborne particulate matter in an animal model of stroke. The particulate matter used in the project is collected in urban Los Angeles, to mimic the regional exposure of residents. Mice exposed to air with particulate matter had larger infarct volumes and less favorable neurological deficit scores than mice exposed to filtered air.14

Neuroprotective therapies are also researched by several laboratories at Keck Medicine of USC. The goal is to identify a therapy that can be given in the periprocedural window following a stroke that could delay ischemia or decrease the permeability of the blood brain barrier, for instance.12,15
The future of stroke care in Southern California begins at Keck Medicine of USC. We remain dedicated to designing, developing and testing the most current technologies and therapies through clinical trials and research studies.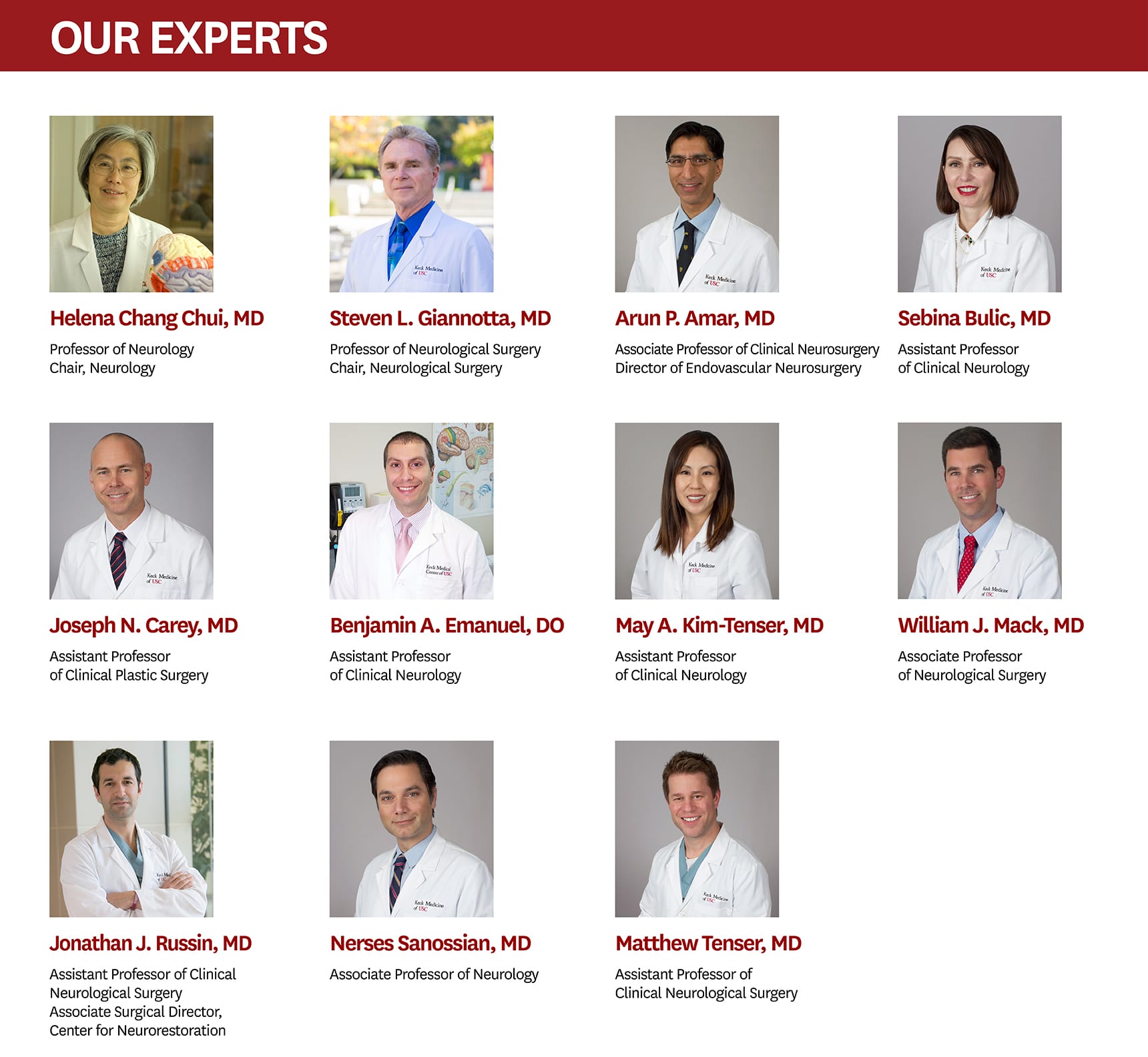 Amar AP, Griffin JH, Zlokovic BV. Combined neurothrombectomy or thrombolysis with adjunctive delivery of 3K3A-activated protein C in acute ischemic stroke. Front Cell Neurosci. 2015;9:344.
Asbaghi SA, Russin JJ, Ferre J-C, Law M, Giannotta SL, Mack WJ. MR permeability and matrix metalloproteinase 9 levels: association with cerebral vasospasm following aneurysmal subarachnoid hemorrhage. Brain Aneurysm FoundationSeptember 2011.
Liu Q, Babadjouni R, Radwanski R, et al. Stroke damage is exacerbated by nano-size particulate matter in a mouse model. PLoS One. 2016;11(4):e0153376.
Babadjouni R, Wallcott B, Liu Q, Tenser M, Amar A, Mack W. Neuroprotective delivery platforms as an adjunct to mechanical thrombectomy. Neurosurg Focus. 2017;42(4):E4.