State-of-the-art endovascular procedures including mechanical thrombectomy
Endovascular procedures are changing the treatment landscape for patients with cerebrovascular disorders. At USC Neurosciences, we aim to treat patients with endovascular therapies when possible, by embolization of brain aneurysms, mechanical thrombectomy for acute ischemic stroke, carotid artery angioplasty and stenting, embolization of vascular malformations and tumors, angioplasty and stenting of cranial vessels and embolization for vascular trauma. Research has shown that embolization of ruptured brain aneurysms had a higher likelihood of a favorable outcome compared to open surgical repair.4-8
Several patient factors are evaluated to determine if an endovascular approach is suitable. For instance, our team of physicians will assess the site of vessel occlusion, anatomy of the vessel, severity of the patient's neurologic deficit and whether the tissue is still salvageable to decide on an approach for therapy. Once a patient is approved for treatment, systems of care are in place at Keck Hospital of USC to ensure efficient movement of the patient through various points in the hospital to ensure a timely treatment. If an endovascular procedure is not suitable for the patient, we have expertise in open cerebrovascular repair at USC Neurosciences.
To more accurately assess a patient's condition, we use advanced imaging tools (such as RAPID CT perfusion and MR perfusion imaging) to help distinguish between the permanently damaged central core of the brain tissue from the surrounding envelope of viable tissue. These imaging tools are very standardized and reliable from one patient to the next.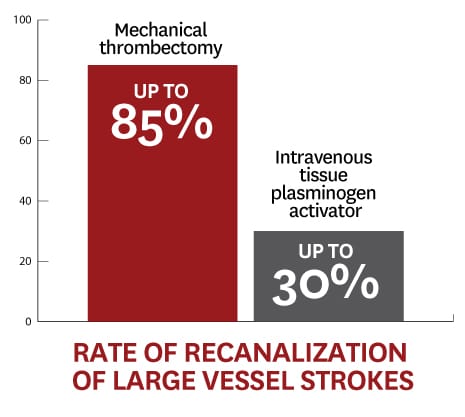 Keck Medical Center of USC is one of the highest volume centers in the region for mechanical thrombectomy to treat acute ischemic stroke. Physicians at USC Neurosciences were involved with several clinical trials of mechanical thrombectomy devices and have extensive experience with their use.
Patients who are candidates for mechanical thrombectomy usually have a blockage of the middle cerebral artery, the internal carotid artery or the basilar artery. Thrombectomy plus medical management has been shown to be superior therapy for large vessel occlusions of the cerebral arteries compared to medical management alone.9 Mechanical thrombectomy has up to an 85 percent rate of recanalization of large vessel strokes.10 For comparison purposes, intravenous tissue plasminogen activator has a five to 30 percent rate of recanalization of large vessel strokes.11
Berkhemer OA, Fransen PS, Beumer D, et al. A randomized trial of intraarterial treatment for acute ischemic stroke. N Engl J Med. 2015;372(1):11-20.
Campbell BC, Mitchell PJ, Kleinig TJ, et al. Endovascular therapy for ischemic stroke with perfusion-imaging selection. N Engl J Med. 2015;372(11):1009-1018.
Goyal M, Demchuk AM, Menon BK, et al. Randomized assessment of rapid endovascular treatment of ischemic stroke. N Engl J Med. 2015;372(11):1019-1030.
Jovin TG, Chamorro A, Cobo E, et al. Thrombectomy within 8 hours after symptom onset in ischemic stroke. N Engl J Med. 2015;372(24):2296-2306.
Saver JL, Goyal M, Bonafe A, et al. Stent-retriever thrombectomy after intravenous t-PA vs. t-PA alone in stroke. N Engl J Med. 2015;372(24):2285-2295.
Chen CJ, Ding d, Starke RM, et al. Endovascular vs medical management of acute ischemic stroke. Neurol. 2015;85(22):1980-1990.
Amar AP, Griffin JH, Zlokovic BV. Combined neurothrombectomy or thrombolysis with adjunctive delivery of 3K3A-activated protein C in acute ischemic stroke. Front Cell Neurosci. 2015;9:344.
Bhatia R, Hill MD, Shobha N, et al. Low rates of acute recanalization with intravenous recombinant tissue plasminogen activator in ischemic stroke: real-world experience and a call for action. Stroke. 2010;41(10):2254-2258.